News From Singer Sewing Center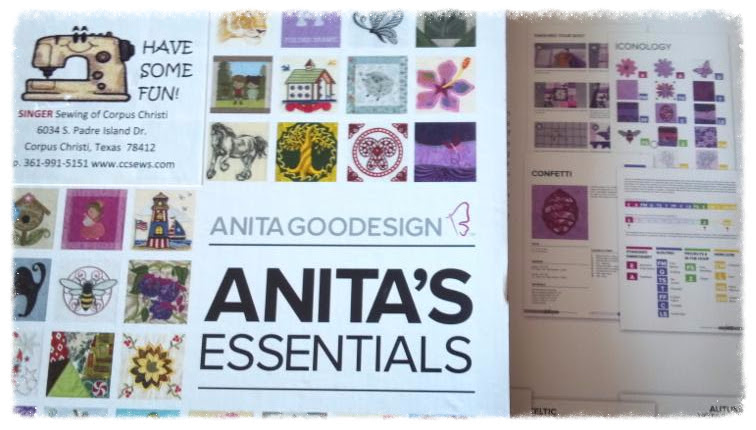 ARE YOU A NEW EMBROIDERER?
OR JUST WANT A LEARN 
SOME NEW TECHNIQUES?  
Anita Goodesign has come up with a terrific new package.
You get a CD with 15 different designs,
each using a different embroidery technique.
You also get a 350 page color catalog , which includes color photographs taking you step by step through each design.
You've got to see it to believe it.
Only $44.95.
The Fundamental Curriculum & Catalog will not be available during the Anita Goodesign Event in October,
but we do have them in stock now.
NEW UPGRADE FOR BROTHER V-MACHINES
Do You have the Brother
V-Series machine?
DreamMaker VE2200 DreamCreator VM5100 or DreamWeaver VM6200.
Get more from you machine with this latest Upgrade!
You will be increase your sewing field to 8″X12″.
Also, this upgrade includes multi-line formatting for the built-in fonts.
Also, you will get 30 new embroidery designs,
and 2 hoops; 8″X8 "and the 8″X12″ hoops!
Call and reserve yours now.
They are due to arrive in a few weeks.
Get a jump start on the Holidays!
QUILTING ALL NIGHT
Saturday, September 12, 3:00pm
until
Sunday,  September 13, 3:00am
.
Join Tassie and Faye for 12 hours of fun and learn'n.
Scare up a Halloween Table Topper,
or get ready for Christmas with a Tree Skirt or
Quilted Table Topper.
Or bring your own project and have some fun quilting with your new best friends.
12 hours of sewing and instruction just $60.00.
IN OUR NEW EXPANDED SEWING ROOM!
Hoop Sisters
Jacobean Journey
Saturday, 
Sept 5 at 1:00pm 
We're way off schedule, but still on track.
Join us for month 3 of our Jacobean Journey.
Please call and
let us know which time you will be attending,
so that we can have plenty of room and tables.
If you haven't started,
but would still like to join this fantastic 10 month embroidery/quilt class,
it's still not too late.
Give us a call, and we'll get you going.
MARY MULARI
Sewing Inspirations
September 18 & 19th, 2015
For a generous dose of sewing inspiration, be sure to sign up for
 Mary Mulari's presentation on
Friday, Sept. 18
You'll see classy but easy-to-sew projects featured in her books and onSewing With Nancy
Learn ways to give new life to clothing, table linens,
felted sweaters and scarfs.
Be amazed by Mary's Zipper Bags.
See the very newest aprons and applique,
along with a scoop on a fabric collection that Mary has designed for Penny Rose Fabrics.
There will be surprises and inventive ways to use your sewing machine,
adding stitching details to wow your friends and neighbors.
Mary has earned her national reputation as the teacher
that brings the most samples to share.
Her duffel-bags are bulging with super creative and clever items that you will want to rush home and sew yourself.
$39.00 for 6 hour demonstration includes lunch.
On Saturday, Sept 19,
join Mary for a For a new kind of sewing experience,
         morning session,
9:30am – 12:30pm
OR afternoon session, 
2:00pm – 5:00pm
You will create 2 projects:
a monogrammed luggage tag,
and a watch band 
(with a watch face
that you will choose
from Mary's collection.
The BabyLock Sashiko is the machine you will using.
Have you been curious about this unique embellishment machine?
Join Mary for some creative fun and
2 completed projects by the end of the class.
$39.00 for morning or afternoon class includes all materials to complete 2 projects,
and use of Sashiko machine.
BONUS!
Those attending both
Friday's presentation AND
Saturday's
hands-on class will receive a $20.00 Singer Gift Certificate.
Please sign up now; space is limited.
361-991-515
ANITA GOODESIGN EMBROIDERY EVENT
Friday

&

Saturday

 

October 16

&

17th, 2015
This is the correct date….sorry for the confusion…
If you came to our last Anita Goodesign Event,
you know that you want to do that again!
If you have been thinking about learning more about
machine embroidery,
this is a fun and easy way to accomplish that.
You will have a ball spending 2 days
with great machines and great friends.
Only $99.00 for both days, which includes lunch,
instruction and design book with all 14 embroidery projects.
You will go home with about half of these projects completed.
Space is very limited! Don't be left out! Call
361-991-5151
.
THE BROTHER 
DREAM FRAME
Quilt your own quilts
with your own machine!
The Brother Dream Frame allows you to place your quilt sandwich right on the frame,
and free-motion quilt with your machine!
Come in and see how easy quilting can be.
BROTHER PERSONA 
The one needle sensation!
You've always wanted to easily sew caps and totes and jeans and pockets,
but didn't want to have to open seams to get the garment in your embroidery hoop.
But the multi-needle machines are
too big and scary.
The Brother Persona is your answer.
It even comes WITH the cap hoop!
Come in and see it!
DIME, Designs in Machine Embroidery
Hooping, Embroidery, and Quilting Event
Date to be announced! Don't worry; it will be soon!
Come join us for a 6 hour fun-filled, hands-on class sponsored by
Designs in Machine Embroidery.
You will learn perfect placement and other amazing techniques to make your machine embroidery projects more perfect, easier,  and more fun.
 You will also learn all about the  DIME ShortE, 
"The short frame
with the long reach".
You can now easily
embroider and quilt
on your large projects
with your
regular embroidery and sewing machines.
I wanted to thank all of you for your patience with the
Singer Sewing Center
while we were remodeling,
and being unavailable for classes.
We will be getting back to our
class schedule very soon.
We very much appreciate
your business and support!
Susan Glass
Would you like a new machine,
but you don't want to wait?
The Singer Sewing Center
ALWAYS offers
no money down, and no interest for 12 months,
for qualified buyers.
Don't mind waiting? We have LAYAWAY as well.
Come in and find the machine of your dreams.